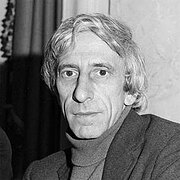 Lloyd Alexander
(1924–2007)
Allmänna fakta
Namn enligt folkbokföringen

Födelsedag

Avled

Begravningsplats

Arlington Cemetery, Drexel Hill, Delaware County, Pennsylvania (USA Plot: Monticello Mausoleum, B4-Back Wall)

Kön

Nationalitet

Födelseort

Dödsort

Dödsorsak

Utbildning

Yrken

Relationer

Organisationer

Priser och utmärkelser

Kort biografi

[from The Wizard in the Tree]
Lloyd Alexander received the Newbery medal for The High King, the fifth and final book of his distinguished fantasy series about the kingdom of Prydain. His The Marvelous Misadventures of Sebastian, which won the 1971 National Book Award for Children's Books, was described in The Horn Book as "a comic fantasy, successfully combining eighteenth-century briskness with romantic 'moonshine'. It can be read as an exciting series of adventures, of which many of the chapters end with a suspense line. Or it can be read as an allegory on the ambivalent power of beauty. Or -- best of all -- it can be read as the story of Sebastian's apprenticeship to life".

Mr. Alexander's The Cat Who Wished to Be a Man was an ALA Notable Children's Book of 1973. Said School Library Journal, "Lionel, a wizard's cat, persuades his master to turn him into a man. . . . Infused with humor, high spirits, and compassion, Lionel's story is a parable of the human condition that recognizes mankind's many frailties without despariing and offers hope that love and justice may sometimes prevail".
Statistik
Verk

80

Även av

37

Medlemmar

48,077

Popularitet

#327

Betyg

3.9
Recensioner

689

ISBN

717

Språk

18

Favoritmärkt

151

Proberstenar

670