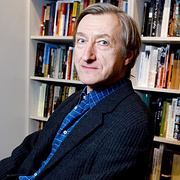 Allmänna fakta
Namn enligt folkbokföringen

Andra namn

Födelsedag

Kön

Nationalitet

Land (för karta)

Födelseort

Bostadsorter

Utbildning

Yrken

Relationer

Organisationer

Priser och utmärkelser

David Cohen British Literature Prize (2011)
Commandeur de L'Ordre des Arts et des Lettres, France (2004)
Man Booker Prize (2011)
Somerset Maugham Award (1981)
Geoffrey Faber Memorial Prize (1985)
Jerusalem Prize (2021) (

visa alla

10)
Chevalier de l'Ordre des Arts et des Lettres (1988)
Siegfried Lenz Prize (2016)
Austrian State Prize for European Literature (2004)
E. M. Forster Award (1986)

Kort biografi

Julian Barnes was born in Leicester, England on January 19, 1946. He was educated at the City of London School from 1957 to 1964 and at Magdalen College, Oxford, from which he graduated in modern languages (with honours) in 1968.

After graduation, he worked as a lexicographer for the Oxford English Dictionary supplement for three years. In 1977, Barnes began working as a reviewer and literary editor for the New Statesman and the New Review. From 1979 to 1986 he worked as a television critic, first for the New Statesman and then for the Observer.

Barnes has received several awards and honours for his writing, including the 2011 Man Booker Prize for The Sense of an Ending. Three additional novels were shortlisted for the Man Booker Prize (Flaubert's Parrot 1984, England, England 1998, and Arthur & George 2005). Barnes's other awards include the Somerset Maugham Award (Metroland 1981), Geoffrey Faber Memorial Prize (FP 1985); Prix Médicis (FP 1986); E. M. Forster Award (American Academy and Institute of Arts and Letters, 1986); Gutenberg Prize (1987); Grinzane Cavour Prize (Italy, 1988); and the Prix Femina (Talking It Over 1992). Barnes was made a Chevalier de l'Ordre des Arts et des Lettres in 1988, Officier de l'Ordre des Arts et des Lettres in 1995 and Commandeur de l'Ordre des Arts et des Lettres in 2004. In 1993 he was awarded the Shakespeare Prize by the FVS Foundation and in 2004 won the Austrian State Prize for European Literature. In 2011 he was awarded the David Cohen Prize for Literature. Awarded biennially, the prize honours a lifetime's achievement in literature for a writer in the English language who is a citizen of the United Kingdom or the Republic of Ireland. He received the Sunday Times Award for Literary Excellence in 2013 and the 2015 Zinklar Award at the first annual Blixen Ceremony in Copenhagen. In 2016, the American Academy of Arts & Letters elected Barnes as an honorary foreign member. Also in 2016, Barnes was selected as the second recipient of the Siegfried Lenz Prize for his outstanding contributions as a European narrator and essayist.

Julian Barnes has written numerous novels, short stories, and essays. He has also translated a book by French author Alphonse Daudet and a collection of German cartoons by Volker Kriegel. His writing has earned him considerable respect as an author who deals with the themes of history, reality, truth and love.
Statistik
Verk

73

Även av

37

Medlemmar

37,855

Popularitet

#478

Betyg

3.7
Recensioner

1,381

ISBN

1,156

Språk

32

Favoritmärkt

120

Proberstenar

1,527