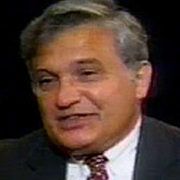 Allmänna fakta
Vedertaget namn

Namn enligt folkbokföringen

Födelsedag

Kön

Nationalitet

Födelseort

Bostadsorter

Utbildning

Yrken

Relationer

Organisationer

Priser och utmärkelser

Kort biografi

A native of Lowell, Massachusetts, Nicholas A. Basbanes graduated from Bates College in 1965, received a master of arts degree from Pennsylvania State University in 1968, and served as a naval officer aboard the aircraft carrier Oriskany in the Tonkin Gulf in 1969 and 1970. An award-winning investigative reporter during the early 1970s, Basbanes was literary editor of the Worcester Sunday Telegram from 1978 to 1991, and for eight years after that wrote a nationally syndicated column on books and authors. He is a former president of the Friends of the Robert H. Goddard Library of Clark University, which has established a student book collecting competition in his honor. In addition to his books, Basbanes has written for numerous newspapers, magazines, and journals, The New York Times, Los Angeles Times, The Washington Post, Smithsonian, Civilization , and New England Quarterly among them, and lectures widely on book-related subjects. In 2004, he began writing the "Gently Mad" column for Fine Books & Collections magazine. With his wife, Constance Basbanes, he writes a monthly review of children's books for Literary Features Syndicate, which they established in 1993, and which appears in a dozen newspapers. They are the parents of two daughters, and live in North Grafton, Mass.
Statistik
Verk

15

Även av

6

Medlemmar

8,187

Popularitet

#2,956

Betyg

4.0
Recensioner

93

ISBN

36

Språk

2

Favoritmärkt

65

Om

1

Proberstenar

267