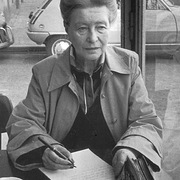 Simone de Beauvoir
(1908–1986)
Allmänna fakta
Vedertaget namn

Namn enligt folkbokföringen

Andra namn

Födelsedag

Avled

Begravningsplats

Kön

Nationalitet

Land (för karta)

Födelseort

Dödsort

Bostadsorter

Utbildning

Institut catholique de Paris (wiskunde)
Institut Sainte-Marie (letteren)
Universiteit van Parijs (filosofie)

Yrken

Relationer

Organisationer

Priser och utmärkelser

Jerusalem Prize for the Freedom of the Individual in Society (1975)
Österreichischer Staatspreis für Europäische Literatur (1978)
Sonning-prijs van de Universiteit van Kopenhagen (1983)

Kort biografi

Simone de Beauvoir was born in Paris to a devoutly Catholic bourgeois family. She was educated at a convent boarding school and originally wanted to become a nun; however, she lost her faith at age 14. After passing her baccalaureate exams, she studied mathematics at the Institut Catholique and literature and languages at the Institut Sainte-Marie, before entering the Sorbonne to study philosophy. She wrote her thesis on Leibniz. She sat in on courses at the École Normale Supérieure to prepare for the agrégation (postgrad exam) in philosophy, and it was there that she met Jean-Paul Sartre. De Beauvoir became a teacher, intellectual, and well-known writer, beginning with her first novel, She Came to Stay (1943). She also produced philosophical essays, plays, memoirs, travel diaries, and newspaper articles, and served as an editor of the influential literary review Les Temps modernes. She won the Prix Goncourt for her 1954 novel The Mandarins. De Beauvoir became a key figure in the struggle for women's rights in France and worldwide, sparked by her feminist work The Second Sex (1949). With her lifelong companion Sartre, she was a central player in the important philosophical debates of the 20th century.
Statistik
Verk

147

Även av

30

Medlemmar

24,030

Popularitet

#873

Betyg

3.9
Recensioner

227

ISBN

987

Språk

30

Favoritmärkt

104

Om

3

Proberstenar

380