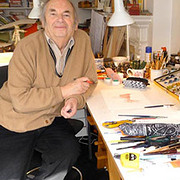 Allmänna fakta
Vedertaget namn

Namn enligt folkbokföringen

Födelsedag

Kön

Nationalitet

Land (för karta)

Födelseort

Bostadsorter

Utbildning

Chislehurst and Sidcup Grammar School
Cambridge University (Downing College)
Institute of Education, London University
Chelsea School of Art

Yrken

Relationer

Organisationer

Priser och utmärkelser

Children's Laureate (1999-2001)
Hans Christian Andersen Award ( [2002])
Order of the British Empire ( [2005])
Action for Children's Arts (J. M. Barrie Award|2008)
Eleanor Farjeon Award (2012)

Agent

Kort biografi

Quentin Saxby Blake is an English cartoonist, illustrator and children's author, well known for his collaborations with writer Roald Dahl. Born in 1932 in Sidcup, London, he was educated at Chislehurst and Sidcup Grammar School. He read English Literature at Downing College, Cambridge (1953-6), received his postgraduate teaching diploma from the University of London, and later studied at the Chelsea School of Art. He gained another teaching diploma at the Institute of Education before working at the Royal College of Art.

Blake gained a reputation as a reliable and humorous illustrator of over three hundred children's books. As well as illustrating the books of others, including Roald Dahl and Elizabeth Bowen, Blake has written numerous books of his own. As of 2006, he has participated in the writing and/or illustrating of 323 books (of which he wrote 35 himself, and 18 were by Dahl). He taught at the Royal College of Art for over twenty years, and was head of the Illustration department from 1978 to 1986. He recently illustrated David Walliams's debut book, The Boy in the Dress,/i> and his more recent book Mr Stink.
Statistik
Verk

100

Även av

264

Medlemmar

3,320

Popularitet

#7,707

Betyg

4.0
Recensioner

55

ISBN

400

Språk

13

Favoritmärkt

5

Om

1

Proberstenar

76