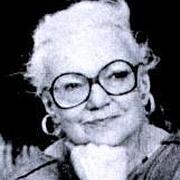 Lilian Jackson Braun
(1913–2011)
Allmänna fakta
Födelsedag

Avled

Kön

Nationalitet

Födelseort

Dödsort

Dödsorsak

Bostadsorter

Yrken

Organisationer

Agent

Kort biografi

She is something of a technophobe and still uses a typewriter.

The history of Lilian Jackson Braun is perhaps as exciting and mysterious as her novels. Between 1966 and 1968, she published three novels to critical acclaim; The Cat Who Could Read Backwards, The Cat Who Ate Danish Modern and The Cat Who Turned On and Off. In 1966, The New York Times labeled Braun, "the new detective of the year." Then, for reasons unknown, the rising mystery author disappeared from the publishing scene.

It wasn't until 1986 that the Berkley Publishing Group reintroduced Braun to the public with the publication of an original paperback, The Cat Who Saw Red. Within two years, Berkley released four new novels in paperback and reprinted the three mysteries from the sixties.
Braun was the "Good Living" editor of The Detroit Free Press for 29 years. She is retired from journalism and is currently writing mysteries full-time. She lives with two Siamese cats and her husband, Earl Bettinger, in North Carolina.
Statistik
Verk

118

Även av

30

Medlemmar

45,442

Popularitet

#356

Betyg

3.5
Recensioner

578

ISBN

1,020

Språk

10

Favoritmärkt

69

Om

1

Proberstenar

446