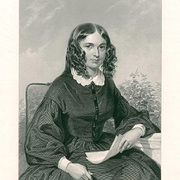 Elizabeth Barrett Browning
(1806–1861)
Allmänna fakta
Namn enligt folkbokföringen

Andra namn

Födelsedag

Avled

Begravningsplats

Kön

Nationalitet

Land (för karta)

Födelseort

Dödsort

Bostadsorter

Great Malvern, Worcestershire, England, UK
Durham, England, UK (Coxhoe Hall ∙ birth)
Florence, Italy
Sidmouth, England, UK
London, England, UK
Torquay, Devon, England, UK

Yrken

Relationer

Browning, Robert (husband)
Browning, Robert Wiedemann Barrett (son)
Mitford, Mary Russell (friend)
Moulton Barrett, Edward (father)

Kort biografi

The love story of Elizabeth Barrett, one of the most prominent poets of the Victorian era from a young age, and the poet and playwright Robert Browning, has itself inspired many works of fiction and biography. Their courtship had to be conducted in secret as her domineering father did not want his children to marry. After much planning, in 1846 the couple married in a private ceremony in London and then eloped to Paris. They went on to Italy, which became their home almost continuously until Elizabeth's death. In 1849, at the age of 43, between four miscarriages, she gave birth to a son, Robert Wiedemann Barrett Browning, whom they called Pen.

Särskiljningsnotis

Officially, her given names were "Elizabeth Barrett", and her family name "Moulton Barrett", but the Moulton part was rarely used. Before her marriage (Sept. 1846) she published as "Elizabeth Barrett Barrett; subsequently as "Elizabeth Barrett Browning".
Statistik
Verk

212

Även av

38

Medlemmar

5,989

Popularitet

#4,114

Betyg

4.0
Recensioner

54

ISBN

292

Språk

11

Favoritmärkt

31

Proberstenar

96