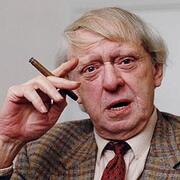 Anthony Burgess
(1)
(1917–1993)
För andra författare vid namn Anthony Burgess, se särskiljningssidan.
Allmänna fakta
Vedertaget namn

Namn enligt folkbokföringen

Andra namn

Födelsedag

Avled

Begravningsplats

Kön

Nationalitet

Land (för karta)

Födelseort

Dödsort

Dödsorsak

Bostadsorter

Harpurhey, Manchester, England, UK
Birmingham, England, UK
Malaya
Brunei
Monaco
Oxfordshire, England, UK (

visa alla

7)
Etchingham, East Sussex, England, UK

Utbildning

Yrken

writer
author
novelist
lecturer (Birmingham University)
teacher (Banbury Grammar School)
education officer (Malaya and Brunei) (

visa alla

11)
composer
librettist
translator
essayist
literary critic

Relationer

Organisationer

Royal Army Medical Corps
Army Educational Corps
Mid-West School of Education (lecturer in speech and drama)
Banbury Grammar School (teacher of English literature)

Priser och utmärkelser

Companion of Literature, Royal Society of Literature (1991)
Commandeur de l'Ordre des Arts et des Lettres
Fellow, Royal Society of Literature (1969)
Commandeur de Merite Culturel
Charles Baudelaire Prize (1981)
Prix du Meilleur Livre Etranger (1981) (

visa alla

10)
National Arts Club Medal of Honor for Literature (1973)
Critic of the Year Prize (1979)
Premio Scanno (1981)
J. R. Ackerley Prize (1988)

Agent

Kort biografi

John Anthony Burgess Wilson, FRSL (25 February 1917 – 22 November 1993), who published under the name Anthony Burgess, was an English writer and composer.

Although Burgess was predominantly a comic writer, his dystopian satire A Clockwork Orange remains his best-known novel. In 1971, it was adapted into a controversial film by Stanley Kubrick, which Burgess said was chiefly responsible for the popularity of the book. Burgess produced numerous other novels, including the Enderby quartet, and Earthly Powers. He wrote librettos and screenplays, including the 1977 TV mini-series Jesus of Nazareth. He worked as a literary critic for several publications, including The Observer and The Guardian, and wrote studies of classic writers, notably James Joyce. A versatile linguist, Burgess lectured in phonetics, and translated Cyrano de Bergerac, Oedipus Rex, and the opera Carmen, among others.

Burgess also composed over 250 musical works; he considered himself as much a composer as an author, although he enjoyed considerably more success in writing.
Statistik
Verk

118

Även av

43

Medlemmar

42,292

Popularitet

#405

Betyg

4.0
Recensioner

634

ISBN

849

Språk

32

Favoritmärkt

116

Om

4

Proberstenar

1,206