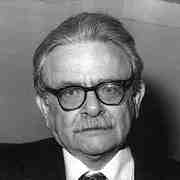 Elias Canetti
(1905–1994)
Allmänna fakta
Vedertaget namn

Namn enligt folkbokföringen

Födelsedag

Avled

Begravningsplats

Kön

Nationalitet

Land (för karta)

Födelseort

Dödsort

Bostadsorter

Utbildning

Yrken

Relationer

Organisationer

Priser och utmärkelser

Georg-Büchner-Preis (1972)
Nobelprijs voor Literatuur (1981)
Literaturpreis der Stadt Wien (1966)
Nelly-Sachs-Preis (1975)
Gottfried-Keller-Preis (1977)

Kort biografi

Elias Canetti was born in Bulgaria to a Jewish family. The family moved to Britain in 1911; to Vienna the following year; to Zürich in 1916; and then (until 1924) to Frankfurt, where Canetti graduated from high school. He learned to speak Ladino (his native language), Bulgarian, English, German, and French. In 1938, a few days after Kristallnacht, Canetti and his wife Veza escaped to London, where they received British citizenship in 1952. Veza died in 1963, and for his last 20 years, Canetti mostly lived in Zürich. Nearly all his writings were in German. Canetti won the Nobel Prize in Literature in 1981.
Statistik
Verk

122

Även av

7

Medlemmar

8,352

Popularitet

#2,889

Betyg

3.9
Recensioner

87

ISBN

628

Språk

27

Favoritmärkt

47

Proberstenar

137