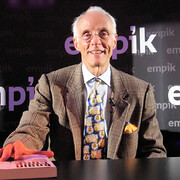 Allmänna fakta
Vedertaget namn

Namn enligt folkbokföringen

Födelsedag

Kön

Nationalitet

Födelseort

Bostadsorter

Utbildning

Wesleyan University (BS)
Columbia University College of Physicians and Surgeons (MD|1966)
Harvard Medical School (residency)

Yrken

Organisationer

Kort biografi

Robert Brian "Robin" Cook (born May 4, 1940) is an American physician and novelist who writes about medicine and topics affecting public health.

He is best known for combining medical writing with the thriller genre. Many of his books have been bestsellers on The New York Times Best Seller List. Several of his books have also been featured in Reader's Digest. His books have sold nearly 400 million copies worldwide.

Cook was born in Brooklyn, New York, and grew up in Woodside, Queens, New York City. He moved to Leonia, New Jersey when he was eight, where he could first have the "luxury" of having his own room. He graduated from Wesleyan University and Columbia University College of Physicians and Surgeons, and finished his postgraduate medical training at Harvard.

Cook ran the Cousteau Society's blood-gas lab in the south of France. He later became an aquanaut (a submarine doc) with the U.S. Navy's SEALAB program when he was drafted in 1969. Cook served in the Navy from 1969 to 1971, reaching the rank of lieutenant commander. He wrote his first novel, Year of the Intern, while serving on the Polaris submarine USS Kamehameha.

The Year of the Intern was a failure, but Cook began to study bestsellers. He said, "I studied how the reader was manipulated by the writer. I came up with a list of techniques that I wrote down on index cards. And I used every one of them in Coma." He conceived the idea for Coma, about illegally creating a supply of transplant organs, in 1975. In March 1977, that novel's paperback rights sold for $800,000. It was followed by the Egyptology thriller Sphinx in 1979 and another medical thriller, Brain, in 1981. Cook then decided he preferred writing over a career in medicine.

Cook's novels combine medical fact with fantasy. His medical thrillers are designed, in part, to keep the public aware of both the technological possibilities of modern medicine and the ensuing socio-ethical problems which come along with it. Cook says he chose to write thrillers because the forum gives him "an opportunity to get the public interested in things about medicine that they didn't seem to know about. I believe my books are actually teaching people."

The author admits he never thought that he would have such compelling material to work with when he began writing fiction in 1970. "If I tried to be the writer I am today a number of years ago, I wouldn't have very much to write about. But today, with the pace of change in biomedical research, there are any number of different issues, and new ones to come," he says.

Cook's novels have anticipated national controversy. In an interview with Stephen McDonald about the novel Shock, Cook admitted the book's timing was fortuitous.
Statistik
Verk

67

Även av

46

Medlemmar

37,659

Popularitet

#481

Betyg

3.4
Recensioner

559

ISBN

1,847

Språk

27

Favoritmärkt

60

Proberstenar

290