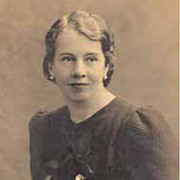 Lettice Cooper
(1897–1994)
Associerade verk
South Riding
(1936)
— Inledning,
vissa utgåvor
—
911 exemplar
Allmänna fakta
Vedertaget namn

Namn enligt folkbokföringen

Födelsedag

Avled

Kön

Nationalitet

Födelseort

Dödsort

Bostadsorter

Utbildning

Yrken

Relationer

Organisationer

Priser och utmärkelser

Kort biografi

Lettice Cooper grew up in Yorkshire, where her father ran an engineering firm, and afterwards lived in London for more than 50 years. She read Classics at Oxford University and then worked for some years in the family business. She had begun writing as a child and published her first novel, The Lighted Room, in 1925. She was a devoted friend of Lionel Fielden, creator of All India Radio, friend of J.R. Ackerley and E.M. Forster, and often visited him at his villa in Antella, a few miles outside Florence. She loved Tuscany and used it as the setting for several of her books. After a brief period at the feminist weekly Time and Tide, she worked at the Ministry of Food during World War II. She never married, and lived with her sister Barbara although they were political opposites. She was president of the English Centre of International PEN (1977-1979) and helped to establish the Public Lending Right program in the UK.
Statistik
Verk

27

Även av

2

Medlemmar

453

Popularitet

#54,169

Betyg

4.0
Recensioner

13

ISBN

38

Språk

2

Favoritmärkt

1