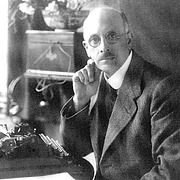 Freeman Wills Crofts
(1879–1957)
Allmänna fakta
Födelsedag

Avled

Kön

Nationalitet

Födelseort

Dödsort

Bostadsorter

Utbildning

Yrken

Organisationer

Priser och utmärkelser

Kort biografi

Freeman Wills Crofts, the 'King of Detective Story Writers', was one of the pre-eminent writers in the golden age of British crime fiction. Acclaimed by his contemporaries, Agatha Christie and Raymond Chandler, he wrote more than 30 detective novels and was a founder member of the hugely influential DETECTIVE CLUB. Crofts's most famous creation was Scotland Yard detective, Inspector French ('As near the real thing as any sleuth in fiction' THE SUNDAY TIMES).
Born in Dublin, Crofts became an engineer and wrote his debut novel, THE CASK: A DETECTIVE STORY ('An imaginatively ingenious mystery' THE EVENING STANDARD) in 1919 during a long absence from work due to illness. He became a full-time writer in 1929 and moved to England with his wife Mary to live in Guildford. He died in 1957.
Statistik
Verk

58

Även av

43

Medlemmar

2,604

Popularitet

#9,867

Betyg

3.5
Recensioner

67

ISBN

298

Språk

8

Favoritmärkt

5

Proberstenar

110