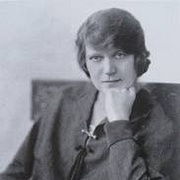 Richmal Crompton
(1890–1969)
Allmänna fakta
Namn enligt folkbokföringen

Födelsedag

Avled

Kön

Nationalitet

Födelseort

Dödsort

Bostadsorter

Utbildning

Yrken

Relationer

Priser och utmärkelser

Kort biografi

Having become disabled following an illness Richmal Crompton gave up teaching and became an author. She was the sister of John Lambourne, the author of The Kingdom That Was. She never married or had children of her own. During the war she volunteered in fire safety. From writing she earned enough money to build a house for herself and her mother within three years of becoming an author. She is most remembered for her William stories. She died in 1969.
Statistik
Verk

190

Även av

3

Medlemmar

5,227

Popularitet

#4,769

Betyg

4.0
Recensioner

66

ISBN

566

Språk

9

Favoritmärkt

12