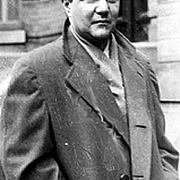 Stanley Ellin
(1916–1986)
Allmänna fakta
Namn enligt folkbokföringen

Födelsedag

Avled

Begravningsplats

Kön

Nationalitet

Födelseort

Dödsort

Bostadsorter

Utbildning

Yrken

Organisationer

Priser och utmärkelser

Kort biografi

Stanley Ellin grew up in Brooklyn, went to school and college there, and lived there for most of his life. During the late 1930s, he eked out a living working at a number of jobs, including junior college teacher, magazine salesman, and steelworker. Although he began writing during these years, he was unable to sell his stories and eventually abandoned his literary efforts. In 1937, he married Jeanne Michael, an editor, and they had one child. After a stint in the Army during World War II, Ellin decided to return to writing full-time. He first sold a story to Ellery Queen Mystery Magazine in 1948 -- his most famous work, now a classic, "The Specialty of the House," won the magazine's best fiction award that year. Also in 1948, Simon & Schuster published his first novel, "Dreadful Summit," launching a successful career in which he published another dozen novels and four collections of short stories. Ellin won three Edgar Awards from the Mystery Writers of America. The French translation of his Mirror, Mirror on the Wall (1972) received the 1975 Le Grand Prix de Litterature Policiere. In 1981, he was named Grand Master, the highest honor from the Mystery Writers of America.
Statistik
Verk

54

Även av

95

Medlemmar

985

Popularitet

#26,140

Betyg

3.8
Recensioner

15

ISBN

162

Språk

11

Favoritmärkt

1

Proberstenar

22