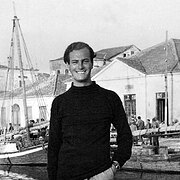 Patrick Leigh Fermor
(1915–2011)
Allmänna fakta
Vedertaget namn

Namn enligt folkbokföringen

Andra namn

Födelsedag

Avled

Begravningsplats

Kön

Nationalitet

Land (för karta)

Födelseort

Dödsort

Bostadsorter

Utbildning

Yrken

Relationer

Fermor, Lewis Leigh (father)
Chatwin, Bruce (friend)
Moss, W. Stanley (fellow officer)
Fielding, Xan (fellow officer, friend)
Eyres Monsell, Joan (spouse)
Hayden, Sir Henry Hubert (godfather) (

visa alla

7)
Fielding, Daphne (friend)

Organisationer

Priser och utmärkelser

Distinguished Service Order
Order of the Phoenix, Greece (Commander)
Royal Society of Literature Companion of Literature
Officer of the Order of the British Empire
Knight Bachelor (2004)
Fellow, Royal Society of Literature

Agent

Kort biografi

Patrick Leigh Fermor was one of the world's great travellers and travel writers. He was also a courageous officer in the British Special Operations Executive in World War II. The BBC once described him as "a cross between Indiana Jones, James Bond, and Graham Greene."

Särskiljningsnotis

Note that this author's surname is Leigh Fermor, first name is Patrick.
Statistik
Verk

29

Även av

19

Medlemmar

8,237

Popularitet

#2,935

Betyg

4.0
Recensioner

192

ISBN

226

Språk

13

Favoritmärkt

52