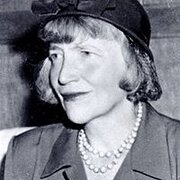 Esther Forbes
(1891–1967)
Allmänna fakta
Namn enligt folkbokföringen

Födelsedag

Avled

Kön

Nationalitet

Födelseort

Dödsort

Dödsorsak

Bostadsorter

New York, New York, USA
Weston, Massachusetts, USA
Worcester, Massachusetts, USA
Madison, Wisconsin, USA

Utbildning

Yrken

historical novelist
children's book author
novelist
biographer
editor
journalist (

visa alla

7)
short story writer

Relationer

Organisationer

Priser och utmärkelser

Pulitzer Prize (History, 1943)
Newbery Medal (1944)
Fellow, American Academy of Arts and Sciences (1949)

Kort biografi

Esther Forbes grew up in Worcester, Massachusetts, was one of the first girls to attended the Bancroft School, and then went to Bradford Academy, a junior college in Bradford, Massachusetts. After graduating in 1912, she joined her older sisters Cornelia and Katherine in Madison, Wisconsin, where she took history classes at the University of Wisconsin. She also joined the editorial board of the Wisconsin Literary Magazine. She published her first short story in 1915. In 1919, she returned to Massachusetts and began working for the editorial department of the Houghton Mifflin Company in Boston. From 1924-1926. she wrote feature articles for the Boston Evening Transcript. In 1926, she married Albert L. Hoskins, Jr., an attorney, and moved with him to New York City. Esther's first novel, O Genteel Lady! was published in 1926 and selected for the Book of the Month Club. A Mirror for Witches was published two years later. In 1933, Esther and her husband divorced, and although she retained her married name, she continued to write under her birth name of Esther Forbes. She returned to Worcester and lived with her mother and unmarried siblings. Esther's mother Harriette Merrifield Forbes, was an historian who assisted her daughter in some of her research for her books. Esther published several further historical novels during this period, including Miss Marvel (1935) and The General's Lady (1938). Most of her books were set in New England from colonial times through the early years of the new republic. In a break from fiction, Esther wrote a biography of Paul Revere, still considered a definitive work by scholars, for which she received the Pulitzer Prize in History in 1943. It helped inspire what became her best-known work, the novel Johnny Tremain (1943), for which she received the Newbery Award in 1944. Esther was elected to membership in the American Academy of Arts and Sciences, and in 1960, became the first woman elected to the American Antiquarian Society. Her novel Rainbow on the Road (1955) was later turned into a Broadway musical under the title Come Summer (1969).
Statistik
Verk

18

Även av

7

Medlemmar

10,310

Popularitet

#2,305

Betyg

3.8
Recensioner

93

ISBN

106

Språk

2

Proberstenar

167