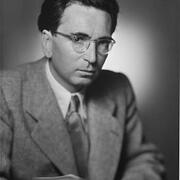 Viktor Frankl
(1905–1997)
Allmänna fakta
Vedertaget namn

Namn enligt folkbokföringen

Andra namn

Födelsedag

Avled

Begravningsplats

Kön

Nationalitet

Födelseort

Dödsort

Dödsorsak

Bostadsorter

Utbildning

Yrken

Relationer

Organisationer

Priser och utmärkelser

Kort biografi

Victor E. Frankl was born in Vienna, Austria. He studied medicine at the University of Vienna and later specialized in neurology and psychiatry. His early work was influenced by his contacts with Sigmund Freud and Alfred Adler, although he would later diverge from their teachings. After surviving three years in Nazi concentration camps during World War II, Dr. Frankl returned to Vienna and wrote more than 30 books. He married for the second time to Eleonore Katharina Schwindt (his first wife Tilly Grosser was killed in Bergen-Belsen) and the couple had a daughter. In 1948, he earned a Ph.D. in philosophy with a dissertation on the relationship between psychology and religion. In 1955, he was awarded a professorship of neurology and psychiatry at the University of Vienna, and a visiting professorship at Harvard University. He lectured and taught seminars in many countries around the world.
Statistik
Verk

68

Även av

3

Medlemmar

17,886

Popularitet

#1,229

Betyg

4.2
Recensioner

341

ISBN

496

Språk

32

Favoritmärkt

30