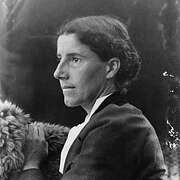 Charlotte Perkins Gilman
(1860–1935)
Allmänna fakta
Namn enligt folkbokföringen

Andra namn

Födelsedag

Avled

Begravningsplats

Kön

Nationalitet

Födelseort

Dödsort

Dödsorsak

Bostadsorter

Providence, Rhode Island, USA
Pasadena, California, USA
New York, New York, USA
Norwich, Connecticut, USA

Utbildning

Yrken

novelist
short story writer
social reformer
magazine editor
public speaker
economist (

visa alla

8)
women's rights activist
suffragist

Relationer

Stowe, Harriet Beecher (great-aunt)
Beecher, Catharine (great-aunt)
Hooker, Isabella Beecher (great-aunt)

Kort biografi

Charlotte Perkins Gilman was born in Hartford, Connecticut, to Frederick Beecher Perkins and his wife Mary Fitch Westcott.
Harriet Beecher Stowe, Catharine Beecher, and Isabella Beecher Hooker, three of the most distinguished 19th-century American writers and women's advocates were her great-aunts of whom she was very proud. Charlotte herself became a noted writer, public speaker, economist, and women's rights and suffrage activist. In 1884, at the age of 24, she married Charles Walter Stetson, an aspiring artist, and the following year gave birth to their daughter. Shortly after the birth, Charlotte suffered a serious bout of what today would be diagnosed as post-partum depression. Her best remembered work today is her semi-autobiographical short story "The Yellow Wallpaper," published in 1892. She also wrote a famous treatise, Women and Economics (1898), in which she said women could never be truly independent until they first had economic freedom. This theme was explored through her lectures, her more than 1,000 nonfiction publications, and her fiction. In 1900, Gilman remarried to her first cousin, George Houghton Gilman. Over the next 25 years, Charlotte also ran her own magazine, The Forerunner, in which many of her stories appeared. An advocate of euthanasia, Gilman ended her life at the age of 75 with an overdose of chloroform. Her work fell into obscurity until it was revived by the women's movement in the 1960s. In 1994, Charlotte Perkins Gilman was inducted into the National Women's Hall of Fame in Seneca Falls, New York.
Statistik
Verk

128

Även av

75

Medlemmar

12,024

Popularitet

#1,952

Betyg

3.9
Recensioner

343

ISBN

750

Språk

18

Favoritmärkt

21

Proberstenar

570