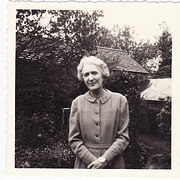 Elizabeth Goudge
(1900–1984)
Allmänna fakta
Namn enligt folkbokföringen

Andra namn

Födelsedag

Avled

Kön

Nationalitet

Födelseort

Dödsort

Bostadsorter

Utbildning

Yrken

Relationer

Organisationer

Priser och utmärkelser

Kort biografi

Elizabeth Goudge was born in the cathedral city of Wells. Elizabeth attended Grassendale School and studied art at University College Reading. She went on to teach design and handicrafts in Ely and Oxford. She was a best-selling author in both the UK and the USA from the 1930s through the 1970s. After her mother's death in 1951, Elizabeth Goudge moved to a cottage on Peppard Common, just outside Henley-on-Thames, where she lived for the last 30 years of her life.
Statistik
Verk

65

Även av

12

Medlemmar

10,441

Popularitet

#2,279

Betyg

4.0
Recensioner

188

ISBN

411

Språk

13

Favoritmärkt

49

Om

1

Proberstenar

360