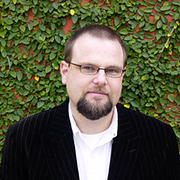 Alan M. Gratz
Författare till Refugee
Allmänna fakta
Vedertaget namn

Födelsedag

Kön

Nationalitet

Födelseort

Bostadsorter

Utbildning

Yrken

Organisationer

Priser och utmärkelser

Agent

Kort biografi

Alan Michael Gratz (born January 27, 1972) is the author of 16 novels for young adults including Prisoner B-3087, Code of Honor and Refugee.

Gratz was born in Knoxville, Tennessee. He holds a B.A. in Creative Writing and a Master's degree in English Education, both from the University of Tennessee, Knoxville.

Gratz lives in Asheville, North Carolina.

I'm the author of a number of books for young readers, including Refugee,Ban This Book, Prisoner B-3087, Code of Honor, Projekt 1065, the League of Seven series, and The Brooklyn Nine. I live in the mountains of western North Carolina with my family, where I enjoy reading, playing games, and eating pizza.
Statistik
Verk

34

Även av

2

Medlemmar

8,441

Popularitet

#2,855

Betyg

4.1
Recensioner

312

ISBN

248

Språk

10

Favoritmärkt

3

Proberstenar

65