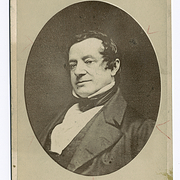 Washington Irving
(1783–1859)
Allmänna fakta
Andra namn

Födelsedag

Avled

Begravningsplats

Kön

Nationalitet

Födelseort

Dödsort

Dödsorsak

Bostadsorter

Yrken

Relationer

Organisationer

Priser och utmärkelser

Royal Society of Literature, Gold Medal (1830)
American Philosophical Society (1829)
Member, Real Academia de la Historia (Spain)
American Academy of Arts and Sciences (1855)
The Hall of Fame for Great Americans (1900)
Honorary Doctorate, Civil Law, Oxford University (1831) (

visa alla

8)
Honorary Academician, National Academy of Design (1841)
Honorary Doctorate of Law, Harvard University (1833)

Agent

Kort biografi

Washington Irving (April 3, 1783 – November 28, 1859) was an American short-story writer, essayist, biographer, historian, and diplomat of the early 19th century. He is best known for his short stories "Rip Van Winkle" (1819) and "The Legend of Sleepy Hollow" (1820). His historical works include biographies of Oliver Goldsmith, Muhammad and George Washington, as well as several histories of 15th-century Spain.

Irving served as ambassador to Spain from 1842 to 1846. He made his literary debut in 1802 with a series of observational letters to the Morning Chronicle, written under the pseudonym Jonathan Oldstyle. He moved to England for the family business in 1815. He continued to publish regularly throughout his life.
Statistik
Verk

890

Även av

174

Medlemmar

22,248

Popularitet

#957

Betyg

3.7
Recensioner

345

ISBN

1,837

Språk

26

Favoritmärkt

25

Proberstenar

396