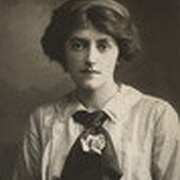 F. Tennyson Jesse
(1888–1958)
Allmänna fakta
Namn enligt folkbokföringen

Andra namn

Födelsedag

Avled

Kön

Nationalitet

Födelseort

Dödsort

Bostadsorter

Chislehurst, Kent, England, UK
Guernsey, Bailiwick of Guernsey
Newlyn, Cornwall, UK
St John's Wood, London, England, UK
Surrey, England, UK

Yrken

Relationer

Kort biografi

Grandniece of Alfred, Lord Tennyson

Särskiljningsnotis

The author's full name was Fryniwyd Tennyson Jesse (1888-1958). She also wrote under the name Wynifred Margaret Tennyson.
Note that she was, however, christened Wynifried [sic] Margaret Tennyson Jesse; the name 'Fryniwyd' was coined as a playful usage during her teens and adopted by the author for the rest of her life.
Statistik
Verk

27

Även av

31

Medlemmar

570

Popularitet

#43,914

Betyg

3.7
Recensioner

14

ISBN

40

Språk

2

Favoritmärkt

1