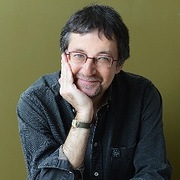 Guy Gavriel Kay
Författare till Tigana
Allmänna fakta
Namn enligt folkbokföringen

Födelsedag

Kön

Nationalitet

Födelseort

Bostadsorter

Weyburn, Saskatchewan, Canada
Winnipeg, Manitoba, Canada
Oxford, Oxfordshire, England, UK
Toronto, Ontario, Canada

Utbildning

Yrken

Priser och utmärkelser

Guest of Honour, Eastercon, UK (2000)
Scales of Justice Award (best media treatment of a legal issue, Canadian Law Reform Commission, 1985)
Guest of Honor, Vericon, Cambridge, MA (2007)

Kort biografi

Guy Gavriel Kay (born November 7, 1954) is a Canadian author of fantasy fiction. Many of his novels are set in fictional realms that resemble real places during real historical periods, such as Constantinople during the reign of Justinian I or Spain during the time of El Cid. Those works are published and marketed as historical fantasy, though the author himself has expressed a preference to shy away from genre categorization when possible. Kay was born in Weyburn, Saskatchewan, and raised in Winnipeg, Manitoba. When Christopher Tolkien needed an assistant to edit his father J.R.R. Tolkien's unpublished work, he chose Kay, then a student at the University of Manitoba, whose parents were friends of Baillie Tolkien's parents. Kay moved to Oxford in 1974 to assist Tolkien in the editing of The Silmarillion.

He returned to Canada in 1976 to finish a law degree at the University of Toronto, and became interested in fiction writing.

Kay became Principal Writer and Associate Producer for a Canadian Broadcasting Corporation radio series, The Scales of Justice.

In 1984, Kay's first fantasy work, The Summer Tree, the first volume of the trilogy The Fionavar Tapestry, was published.
Statistik
Verk

30

Även av

1

Medlemmar

34,259

Popularitet

#554

Betyg

4.0
Recensioner

984

ISBN

496

Språk

19

Favoritmärkt

317

Om

2

Proberstenar

1,611