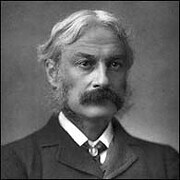 Andrew Lang
(1)
(1844–1912)
För andra författare vid namn Andrew Lang, se särskiljningssidan.
Allmänna fakta
Namn enligt folkbokföringen

Födelsedag

Avled

Begravningsplats

Kön

Nationalitet

Land (för karta)

Födelseort

Dödsort

Bostadsorter

Utbildning

Edinburgh Academy
University of St Andrews
University of Oxford (Balliol College)
Loretto
Selkirk Grammar School

Yrken

Relationer

Priser och utmärkelser

Kort biografi

Andrew Lang FBA (31 March 1844 – 20 July 1912) was a Scottish poet, novelist, literary critic, and contributor to the field of anthropology. He is best known as a collector of folk and fairy tales. The Andrew Lang lectures at the University of St Andrews are named after him.
Statistik
Verk

246

Även av

48

Medlemmar

20,542

Popularitet

#1,054

Betyg

4.0
Recensioner

130

ISBN

2,098

Språk

20

Favoritmärkt

29