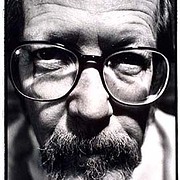 Elmore Leonard
(1925–2013)
Allmänna fakta
Vedertaget namn

Namn enligt folkbokföringen

Andra namn

Födelsedag

Avled

Kön

Nationalitet

Födelseort

Dödsort

Dödsorsak

Bostadsorter

Utbildning

Yrken

Relationer

Organisationer

Priser och utmärkelser

Agent

Kort biografi

Elmore John Leonard Jr. (October 11, 1925 – August 20, 2013) was an American novelist, short story writer, and screenwriter. Leonard was born in New Orleans, Louisiana; the family moved frequently for several years. In 1934, the family settled in Detroit.

He graduated from the University of Detroit Jesuit High School in 1943 and joined the Navy. He graduated from the University of Detroit in 1950 with a bachelor's degree in English and philosophy. A year before he graduated, he got a job as a copy writer with Campbell-Ewald Advertising Agency, a position he kept for several years, writing on the side.


Statistik
Verk

154

Även av

34

Medlemmar

35,739

Popularitet

#524

Betyg

3.6
Recensioner

837

ISBN

1,586

Språk

24

Favoritmärkt

121

Proberstenar

718