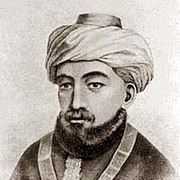 Moses Maimonides
(1135–1204)
Allmänna fakta
Vedertaget namn

Namn enligt folkbokföringen

Andra namn

RamBam (רמב"ם)
Abu Imran Musa bin Maimun ibn Abdallah al-Qurtubi al-Israili
أبو عمران موسى بن ميمون بن عبد الله القرطبي الإسرائيلي

Födelsedag

Avled

Begravningsplats

Kön

Nationalitet

Land (för karta)

Födelseort

Dödsort

Bostadsorter

Yrken

Relationer

Kort biografi

Rabbi Moshe ben Maimon is known in English as Maimonides and in Hebrew by the acronym of his name, Rambam. His importance and influence in Jewish legal and philosophical thought is embodied in the saying, "From Moses (of the 10 Commandments) to Moses (Maimonides) there was none like Moses." Numerous schools around the world are named for him.
Statistik
Verk

321

Även av

8

Medlemmar

2,989

Popularitet

#8,541

Betyg

4.0
Recensioner

18

ISBN

185

Språk

16

Favoritmärkt

11

Proberstenar

26