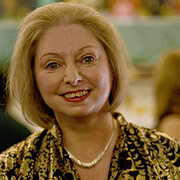 Hilary Mantel
(1952–2022)
Allmänna fakta
Namn enligt folkbokföringen

Födelsedag

Avled

Kön

Nationalitet

Födelseort

Dödsort

Dödsorsak

Bostadsorter

Glossop, Derbyshire, Engeland
Hadfield, Engeland
Romiley, Engeland
Londen, Engeland
Botswana
Jeddah, Saudi Arabië (

visa alla

8)
Surrey, Engeland
Budleigh Salterton, Devon, Engeland

Utbildning

Yrken

Relationer

Organisationer

Priser och utmärkelser

Agent

Kort biografi

Hilary Thompson was the eldest of three children in a Catholic English family of Irish descent. She took the surname of Mantel from her unofficial stepfather after her parents separated. After university, she worked as a social worker at a geriatric hospital and as a sales assistant in a department store. In 1972, she married Gerald McEwen, a geologist, and the couple later lived in Botswana and Saudi Arabia. She published a memoir of this time, "Someone to Disturb," in the London Review of Books. Her first novel, Every Day is Mother's Day, was published in 1985. Returning to England, Hilary Mantel became the film critic of The Spectator and a reviewer for a number of newspapers and magazines in Britain and the USA.
Statistik
Verk

55

Även av

21

Medlemmar

32,288

Popularitet

#602

Betyg

4.0
Recensioner

1,432

ISBN

634

Språk

24

Favoritmärkt

111

Om

4

Proberstenar

2,998