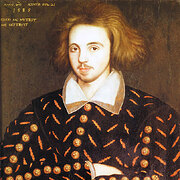 Christopher Marlowe
(1)
(–1593)
För andra författare vid namn Christopher Marlowe, se särskiljningssidan.
Allmänna fakta
Vedertaget namn

Andra namn

Födelsedag

Avled

Begravningsplats

Kön

Nationalitet

Land (för karta)

Födelseort

Dödsort

Dödsorsak

Bostadsorter

Utbildning

The King's School, Canterbury
University of Cambridge (BA | 1584 | Corpus Christi)
University of Cambridge (MA | 1587 | Corpus Christi)

Yrken

Relationer

Kort biografi

Elizabethan theatre's number two writer (after Shakespeare), Christopher Marlowe was an innovator who brought the blank verse to the stage. Marlowe is now best remembered for his plays, like Doctor Faustus and Tamburlaine, as well as his assassination at an early age, which may have been related to his working as a spy and which remains one of the big unsolved mysteries of the literary world.
Statistik
Verk

111

Även av

49

Medlemmar

10,329

Popularitet

#2,300

Betyg

3.9
Recensioner

132

ISBN

580

Språk

18

Favoritmärkt

38

Proberstenar

307