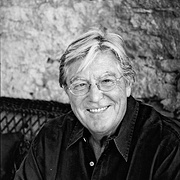 Allmänna fakta
Vedertaget namn

Födelsedag

Avled

Kön

Nationalitet

Födelseort

Dödsort

Bostadsorter

Lourmarin, Provence, France
Barbados
The Hamptons, New York, USA
Vaugines, Provence, France
London, England, UK
Ménerbes, Vaucluse, France

Utbildning

Yrken

Organisationer

Papert Koenig, Londres, New York (Publicitaire, Directeur créatif, | 19 74)
Ogilvy and Mather, New York (Publicitaire, 19 61)
Shell Oil, Londres (Publiciatire, 1957)

Priser och utmärkelser

Kort biografi

Peter Mayle was born in Brighton, England. Following World War II, the family moved to Barbados, where his father served as an employee of the British Colonial Office. Mayle returned to England after leaving school at age 16. His first job in 1957 was as a trainee at Shell Oil's London office. He was more interested in advertising than oil, however, and by 1961 had became a copywriter at Shell's ad agency, Ogilvy & Mather, in New York City. Subsequently, he was hired by Papert Koenig Lois and returned to London to head up the creative team there. When the company had financial troubles in the mid-1960s, Mayle and a colleague bought the London operation. They developed the business and after five years, it was bought by BBDO. He then commuted between the USA and the UK as creative director. By 1974, Mayle had tired of advertising and transatlantic commuting, and quit to write full-time. He started off by writing educational books, including a series on sex education for children and young people. He also wrote, with illustrator Gray Jolliffe, a series of humorous books about the character Wicked Willie. His most significant career move probably was the decision to relocate to Ménerbes, a village in the Luberon region of southern France, in the late 1980s. There his plans to write a novel were overtaken by the events of life as an expatriate in his new environment. They provided the material for his 1989 book A Year in Provence, an international bestseller that became a media phenomenon. Many more books followed, which were translated in more than 20 languages. Mayle also wrote articles for magazines and newspapers. A Year in Provence was adapted into a highly popular British television series in 1993. Mayle had to move to Amagansett on Long Island, New York, to get away from the thousands of fans and sightseers who showed up at his home in Provence. He later returned to France and a home in Vaugines, also in the Luberon.  The French government awarded him the Legion of Honor in 2002, for "coopération et francophonie."

Särskiljningsnotis

This page was formerly split, presumably because the topics written about are very diverse and an assumption was made that they couldn't have been the same author. Works that were previously on #2 had been moved to #1, leaving #2 empty. All the works in the unknowns were related to works in #1, so I unsplit the page.
Statistik
Verk

66

Även av

13

Medlemmar

18,972

Popularitet

#1,153

Betyg

3.6
Recensioner

357

ISBN

735

Språk

21

Favoritmärkt

47

Proberstenar

353