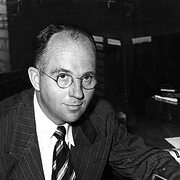 James A. Michener
(1907–1997)
Författare till Källan
Allmänna fakta
Namn enligt folkbokföringen

Begravningsplats

Kön

Nationalitet

Födelseort

Dödsort

Dödsorsak

Bostadsorter

Utbildning

Yrken

Relationer

Organisationer

Priser och utmärkelser

Presidential Medal of Freedom(1977)
Honorary portrait image on a United States postage stamp(2008)
Pulitizer Prize(Fiction ∙ 1948)

Kort biografi

James A. Michener
- De wereld is mijn thuis
- Historische romans op basis van gedegen onderzoek
- Bewogen leven

James A. Michener (1907-1997) had geen makkelijke jeugd: hij verloor al zeer jong zijn ouders en kende als kind veel armoede. In de Tweede Wereldoorlog was hij onder meer piloot en beleefde enkele crashes. Over deze tijd schreef hij onder meer in Tales of the South Pacific (1947), zijn debuutroman die meteen bekroond werd met de Pulitzer Prize.

Het zijn meestal lijvige werken, maar de romans van Michener zijn nog altijd zeer de moeite waard. Hij schreef tientallen (overwegend) historische romans. Zijn verhalen gaan letterlijk de hele wereld over: de onderwerpen die hij behandelt betreffen vaak de geschiedenis van een bepaald land. Michener was zelf ook een fervent reiziger: zo heeft hij de meeste landen ter wereld wel bezocht.

Research
Het werk van Michener wordt gekenmerkt door grondige research en gedegen kennis van het onderwerp waarover hij schrijft. Meestal werkte hij jarenlang aan een boek.
Statistik
Verk

217

Även av

49

Medlemmar

43,656

Popularitet

#387

Betyg

3.9
Recensioner

561

ISBN

1,006

Språk

17

Favoritmärkt

113

Om

2

Proberstenar

646