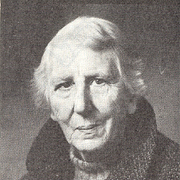 Gladys Mitchell
(1901–1983)
Allmänna fakta
Namn enligt folkbokföringen

Andra namn

Födelsedag

Avled

Kön

Nationalitet

Födelseort

Dödsort

Bostadsorter

Cowley, Oxfordshire, England, UK
Ealing, West London, England, UK
Brentford, Greater London, England, UK
Corfe Mullen, Dorset, England, UK

Utbildning

Goldsmiths College, University of London
Rothschild School, Brentford, England, UK
Green School, Isleworth, England, UK

Yrken

Organisationer

Kort biografi

Gladys Mitchell taught at a number of private (called public in England) schools until she retired in 1950. She returned to teaching in 1953 before retiring for good in 1961 at the age of 60, and no doubt this explains why she so often used schools in her books. She taught English, history and games. Her lifelong interest in athletics earned her membership in the British Olympic Association. Her first attempts at fiction in 1923 were rejected. In 1929, her first published novel, Speedy Death, introduced the character of Mrs. Beatrice Lestrange Bradley, a psychoanalyst/author turned amateur sleuth who then appeared in a further 65 novels. Mitchell was an early member of the Detection Club along with G. K. Chesterton, Agatha Christie, and Dorothy L. Sayers and in the 1930s was considered one of the "Big Three" British female detective writers. She also wrote a number of books under the pen names Malcolm Torrie and Stephen Hockaby. Born in the village of Cowley, Oxfordshire, April 19, 1901, she never married (any knowledge of romance and sex in her books was purely academic, she explained).
Statistik
Verk

89

Även av

20

Medlemmar

4,445

Popularitet

#5,632

Betyg

3.5
Recensioner

91

ISBN

373

Språk

3

Favoritmärkt

9