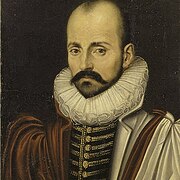 Michel de Montaigne
(1533–1592)
Författare till Essayer
Allmänna fakta
Namn enligt folkbokföringen

Andra namn

Födelsedag

Avled

Begravningsplats

Château de Montaigne
Church of Saint Antoine at Bordeaux
Musée Aquitaine, Faculté des Lettres, Université Bordeaux
Saint-Michel-de-Montaigne parish church (heart)

Kön

Nationalitet

Födelseort

Dödsort

Bostadsorter

Utbildning

Yrken

Relationer

La Boétie, Étienne de (friend)
Del Rio, Martin Antoine (cousin)
Gournay, Marie Le Jars de (protege)
Gontran de Poncins (descendant)

Kort biografi

Montaigne was one of the great humanists of the French Renaissance era and one of its most influential writers. He's best known for his essays, which not only made this literary genre more popular but also more interesting to the reader.

Montaigne grew up speaking Latin and reading Vergil, Ovid, and Horace on his own. At age 6, he was sent to boarding school, the Collège de Guyenne in Bordeaux. He may have studied law, but the school is unknown; his father purchased a law office for him in the Court of Périgueux. He met Etienne de La Boétie, with whom he formed a lifelong friendship. Montaigne retired at age 37 to his father's castle to write. He later received numerous honors from the court of King Charles IX, including the Order of Saint-Michel, and was named a Gentleman of the Ordinary Chamber. He was elected mayor of Bordeaux and served two terms in office.
Statistik
Verk

548

Även av

20

Medlemmar

12,612

Popularitet

#1,855

Betyg

4.1
Recensioner

115

ISBN

661

Språk

25

Favoritmärkt

103

Proberstenar

97