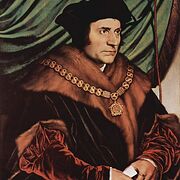 Allmänna fakta
Vedertaget namn

Andra namn

Födelsedag

Avled

Begravningsplats

Royal Chapel of St. Peter Ad Vincula, Tower of London, London, UK (body)
Roper Vault of St Dunstan's Church, Canterbury, Kent, England, UK (head)

Kön

Nationalitet

Land (för karta)

Födelseort

Dödsort

Dödsorsak

Bostadsorter

Utbildning

Yrken

lawyer
politician
Master of Requests
Under-treasurer of the Exchequer
Speaker of the House of Commons
Chancellor of the Duchy of Lancaster (

visa alla

7)
Lord Chancellor

Relationer

Priser och utmärkelser

Kort biografi

Sir Thomas More (7 February 1478 – 6 July 1535), venerated in the Catholic Church as Saint Thomas More, was an English lawyer, social philosopher, author, statesman, and noted Renaissance humanist. He also served Henry VIII as Lord High Chancellor of England from October 1529 to May 1532. He wrote Utopia, published in 1516, about the political system of an imaginary island state.

More opposed the Protestant Reformation, directing polemics against the theology of Martin Luther, Huldrych Zwingli, John Calvin and William Tyndale. More also opposed Henry VIII's separation from the Catholic Church, refusing to acknowledge Henry as supreme head of the Church of England and the annulment of his marriage to Catherine of Aragon. After refusing to take the Oath of Supremacy, he was convicted of treason and executed. On his execution, he was reported to have said: "I die the King's good servant, and God's first".

Pope Pius XI canonised More in 1935 as a martyr. Pope John Paul II in 2000 declared him the patron saint of statesmen and politicians. The Soviet Union in the early twentieth century honoured him for the purportedly communist attitude toward property rights in Utopia.
Diskussioner
Bibliographie i Zwischen �t�p� und Wirklichkeit: Konstruierte Sprachen für die gl�b�l�s�rt� Welt
(

juni

2012)
Statistik
Verk

190

Även av

21

Medlemmar

14,593

Popularitet

#1,576

Betyg

3.6
Recensioner

145

ISBN

666

Språk

25

Favoritmärkt

12

Proberstenar

200