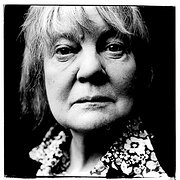 Allmänna fakta
Namn enligt folkbokföringen

Andra namn

Födelsedag

Avled

Begravningsplats

Kön

Nationalitet

Födelseort

Dödsort

Dödsorsak

Bostadsorter

Utbildning

Yrken

Relationer

Organisationer

American Academy of Arts and Letters (Foreign Honorary, Literature | 1975)
American Academy of Arts and Sciences (Foreign Honorary Member | 1982)
St Anne's College, Oxford University

Priser och utmärkelser

Agent

Kort biografi

Iris Murdoch was born in Dublin, Ireland, the only child of an Anglo-Irish family. When she was a baby, the family moved to London, where her father worked as a civil servant. She attended the Badminton School as a boarder from 1932 to 1938. In 1938, she enrolled at Oxford University, where she read Classics. She graduated with a First Class Honors degree in 1942 and got a job with the Treasury. In 1944, she joined the United Nations Relief and Rehabilitation Administration (UNRRA), working in Brussels, Innsbruck, and Graz for two years. She then returned to her studies and became a postgraduate at Cambridge University. In 1948, she became a fellow of St Anne's College, Oxford, where she taught philosophy until 1963. In 1956, she married John Bayley, a literary critic, novelist, and English professor at Oxford. She published her debut novel, Under the Net, in 1954 and went on to produce 25 more novels and additional acclaimed works of philosophy, poetry and drama. She was elected a Foreign Honorary Member of the American Academy of Arts and Sciences in 1982, and named a Dame Commander of Order of the British Empire in 1987. She was diagnosed with Alzheimer's disease in 1997 and died two years later.
Statistik
Verk

82

Även av

10

Medlemmar

25,682

Popularitet

#813

Betyg

3.7
Recensioner

553

ISBN

689

Språk

25

Favoritmärkt

138

Om

4

Proberstenar

1,129