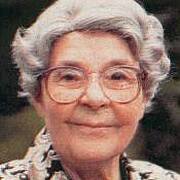 Allmänna fakta
Namn enligt folkbokföringen

Andra namn

Födelsedag

Avled

Begravningsplats

Kön

Nationalitet

Land (för karta)

Födelseort

Dödsort

Bostadsorter

Utbildning

Yrken

Priser och utmärkelser

Kort biografi

Edith Mary Pargeter, BEM (September 28, 1913 in Horsehay, Shropshire, England –October 14, 1995) was a prolific author of works in many categories, especially history and historical fiction, and was also honoured for her translations of Czech classics; she is probably best known for her murder mysteries, both historical and modern. Born in the village of Horsehay (Shropshire, England), she had Welsh ancestry, and many of her short stories and books (both fictional and non-fictional) were set in Wales and its borderlands, and/or have Welsh protagonists.

During World War II, she worked in an administrative role in the Women's Royal Naval Service, and received the British Empire Medal - BEM.

Pargeter wrote under a number of pseudonyms; it was under the name Ellis Peters that she wrote the highly popular series of Brother Cadfael medieval mysteries, many of which were made into films for television.
Statistik
Verk

154

Även av

65

Medlemmar

51,346

Popularitet

#296

Betyg

3.8
Recensioner

925

ISBN

1,729

Språk

23

Favoritmärkt

168