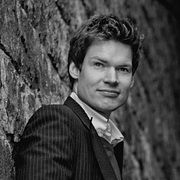 Allmänna fakta
Namn enligt folkbokföringen

Födelsedag

Kön

Nationalitet

Födelseort

Bostadsorter

Utbildning

Yrken

Organisationer

Agent

Kort biografi

Hannu Rajaniemi was born in Ylivieska, Finland, in 1978. He read his first science fiction novel at the age of 6 – Jules Verne's ''20,000 Leagues Under the Sea''. At the age of 8 Hannu approached ESA with a fusion-powered spaceship design, which was received with a polite thank you note.
Hannu studied mathematics and theoretical physics at the University of Oulu and completed a B.Sc. thesis on transcendental numbers. He went on to complete Part III of the Mathematical Tripos at Cambridge University and a PhD in string theory at University of Edinburgh. After completing his PhD, Hannu joined three partners to co-found ThinkTank Maths (TTM). The company provides mathematics-based technologies in the defence, space and energy sectors.
Hannu is a member of an Edinburgh-based writers' group which includes Alan Campbell, Jack Deighton, Caroline Dunford and Charles Stross. His first fiction sale was the short story ''Shibuya no Love'' to Futurismic.com. Hannu's first novel, ''The Quantum Thief'', is published by Gollancz in the UK and by Tor in the US.
Statistik
Verk

27

Även av

27

Medlemmar

4,298

Popularitet

#5,844

Betyg

3.7
Recensioner

174

ISBN

80

Språk

9

Favoritmärkt

7

Proberstenar

91