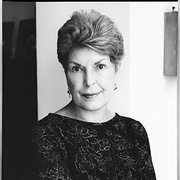 Allmänna fakta
Namn enligt folkbokföringen

Andra namn

Födelsedag

Avled

Begravningsplats

Kön

Nationalitet

Land (för karta)

Födelseort

Dödsort

Bostadsorter

London, England, UK
Groton, Suffolk, England, UK
Polstead, Suffolk, England, UK
Loughton, Essex, England, UK

Utbildning

Yrken

Organisationer

Priser och utmärkelser

Agent

Kort biografi

Ruth Barbara Rendell, née Grasemann, was the only child of two schoolteachers. She got her first job as a reporter for a South Woodford newspaper and married her boss, editor Don Rendell, at age 20. The couple had one son. She published her first novel, From Doon with Death, in 1964. Ms. Rendell was a prolific writer of police procedurals and psychological suspense/crime novels exploring such themes as romantic obsession, family secrets, miscommunication, and the impact of chance and coincidence. After years of writing such critically acclaimed works and receiving many awards, in 1986 she created the pseudonym Barbara Vine. The Barbara Vine novels are more oblique and have a recurring theme of consequences from events that occurred in the past. She was made a life peer as Baroness Rendell of Babergh in 1997.
Statistik
Verk

306

Även av

130

Medlemmar

46,558

Popularitet

#340

Betyg

3.7
Recensioner

1,180

ISBN

3,614

Språk

29

Favoritmärkt

134

Proberstenar

1,042