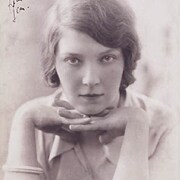 Allmänna fakta
Vedertaget namn

Namn enligt folkbokföringen

Andra namn

Födelsedag

Avled

Begravningsplats

Kön

Nationalitet

Land (för karta)

Födelseort

Dödsort

Bostadsorter

Utbildning

Yrken

Relationer

Williams, William Rees (father)
Williams, Minna (mother)
Lenglet, Willem Johan Marie Jean aka Edouard de Nève (first husband)
Tilden-Smith, Leslie (second husband)
Hamer, Max (third husband)

Organisationer

Priser och utmärkelser

Kort biografi

Ella Gwendoline Rees Williams wrote under the pseudonym Jean Rhys. She was born to a British-Creole family in the British colony of Dominica in the West Indies, and left the island in 1907. She began publishing her writing in the late 1920s. Her most famous work was Wide Sargasso Sea (1966), which won the W.H. Smith Award and the Heinemann Award. In it, Rhys returned to her frequent themes of conflicting cultures, dominance and dependence. Jean Rhys died in Exeter, Devon, before finishing the autobiography she was working on. The incomplete text appeared posthumously under the title Smile Please (1979).
Statistik
Verk

40

Även av

24

Medlemmar

13,990

Popularitet

#1,643

Betyg

3.6
Recensioner

343

ISBN

275

Språk

17

Favoritmärkt

62

Proberstenar

833