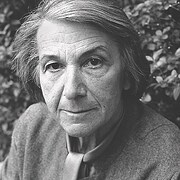 Nathalie Sarraute
(1900–1999)
Allmänna fakta
Vedertaget namn

Namn enligt folkbokföringen

Födelsedag

Avled

Begravningsplats

Kön

Nationalitet

Födelseort

Dödsort

Bostadsorter

Utbildning

Yrken

Relationer

Organisationer

Priser och utmärkelser

Kort biografi

Nathalie Sarraute was born Natalia Tcherniak to a family of assimilated, intellectual Russian Jews and brought up mostly in Paris by her emigré father after her parents divorced. She wrote her first novel at age 12. She attended the Lycée Fénelon and graduated with a licence in English from the University of Paris-Sorbonne in 1920. She then spent a year studying history at Oxford University and six months studying philosophy and sociology at the University of Berlin. In 1925, she was awarded a law degree by the Faculty of Law in Paris, where she met Raymond Sarraute, also a lawyer. The couple married that same year and had three daughters. Nathalie Sarraute was a practicing member of the bar from 1926 to 1941, before dedicating herself full-time to writing. Her first book, Tropisms, a collection of 24 brief texts that appeared in 1939, marked a fresh direction in French literature. Soon thereafter, Nathalie Sarraute went into hiding under a false name to survive the Nazi Occupation of her country during World War II. She participated in the French Resistance. Later she became a leading member of the French experimental style "new novel" movement along with Alain Robbe-Grillet, Claude Simon, and Marguerite Duras. In 1964, she received the prestigious Prix International de Littérature for her novel Les Fruits d'or (The Golden Fruits). She was 83 years old when she had her first bestseller, her autobiographical novel Enfance (Childhood, 1983). In 1996, Nathalie Sarraute had the rare honor of having her works published during her lifetime in the classic Pléiade collection.
Statistik
Verk

40

Även av

3

Medlemmar

2,094

Popularitet

#12,290

Betyg

3.6
Recensioner

24

ISBN

203

Språk

16

Favoritmärkt

5

Proberstenar

25