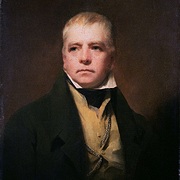 Sir Walter Scott
(1771–1832)
Författare till Ivanhoe
Allmänna fakta
Vedertaget namn

Andra namn

Födelsedag

Avled

Begravningsplats

Kön

Nationalitet

Land (för karta)

Födelseort

Dödsort

Dödsorsak

Bostadsorter

Utbildning

Yrken

Relationer

Organisationer

Bannatyne Club (founder)
Faculty of Advocates (1792)
Royal Edinburgh Volunteer Light Dragoons
Royal Celtic Society
Elder, Church of Scotland (1806)
Highland Society of Edinburgh (

visa alla

7)
Freemasons

Priser och utmärkelser

Fellow, Royal Society of Edinburgh
Fellow, Society of Antiquaries of Scotland (1796)
Baronet (1820)
Hall of Heroes, National Wallace Monument

Kort biografi

Sir Walter Scott, 1st Baronet (15 August 1771 – 21 September 1832), was a Scottish historian, novelist, poet, and playwright. Many of his works remain classics of European and Scottish literature, notably the novels Ivanhoe (1819), Rob Roy (1817), Waverley (1814), Old Mortality (1816), The Heart of Mid-Lothian (1818), and The Bride of Lammermoor (1819), along with the narrative poems Marmion (1808) and The Lady of the Lake (1810). He had a major impact on European and American literature.

As an advocate, judge, and legal administrator by profession, he combined writing and editing with his daily work as Clerk of Session and Sheriff-Depute of Selkirkshire. He was prominent in Edinburgh's Tory establishment, active in the Highland Society, long a president of the Royal Society of Edinburgh (1820–1832), and a vice president of the Society of Antiquaries of Scotland (1827–1829). His knowledge of history and literary facility equipped him to establish the historical novel genre as an exemplar of European Romanticism. He became a baronet of Abbotsford in the County of Roxburgh, Scotland, on 22 April 1820; the title became extinct on his son's death in 1847.
Statistik
Verk

1,053

Även av

111

Medlemmar

34,194

Popularitet

#556

Betyg

3.6
Recensioner

384

ISBN

2,928

Språk

29

Favoritmärkt

65

Om

2

Proberstenar

598