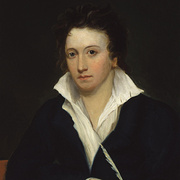 Percy Bysshe Shelley
(1792–1822)
Allmänna fakta
Vedertaget namn

Namn enligt folkbokföringen

Födelsedag

Avled

Begravningsplats

Kön

Nationalitet

Land (för karta)

Födelseort

Dödsort

Dödsorsak

Bostadsorter

Field Place, Sussex, England, UK
Oxford, Oxfordshire, England, UK
Casa Magni, Bay of Spezia, Italy
Villa Diodati, Lake Geneva, Switzerland

Utbildning

Sion House School, Brentford, Middlesex, England, UK
Eton College
Oxford University (University College)

Yrken

Relationer

Shelley, Mary (echtgenote)
Wurdemann, Audrey (achter-achterkleinkind)
Hunt, Leigh (vriend)
Wollstonecraft, Mary (schoonmoeder)
Godwin, William (schoonvader)

Kort biografi

Percy Bysshe Shelley was born near Horsham, Sussex, England to an aristocratic family. The eldest of six siblings, he was the heir to his grandfather's considerable estates and his father's seat in Parliament. He attended Syon House Academy and Eton College (where he was miserable) before a brief spell at Oxford University. His first publication was Zastrozzi (1810), a Gothic novel. With his sister Elizabeth, he published Original Poetry by Victor and Cazire. A pamphlet that he wrote and circulated on "The Necessity of Atheism" resulted in his expulsion from Oxford. At age 19, he eloped to Scotland with 16-year-old Harriet Westbrook. Estranged from his father, he went to live in the Lake District of England and in Ireland. Two years later he published his first long serious work, Queen Mab: A Philosophical Poem. His friendship with the philosopher William Godwin in London led to meeting and falling in love with Mary Wollstonecraft Godwin, his daughter. In 1814, Shelley and Mary eloped to Europe, but they returned after six weeks for lack of funds. They married in 1816 after Harriet Shelley was found drowned, an apparent suicide. Early in 1818, he and Mary left England forever. During the remaining four years of his life, he produced all his major works, including Prometheus Unbound (1820). Today he is considered one of the finest lyric poets in the English language. The Shelleys traveled and lived in various Italian cities and were part of a circle of Romantic poets and writers including Lord Byron and Leigh Hunt. In 1822, less than a month before his 30th birthday, Shelley was drowned in a storm while trying to sail his schooner from Livorno (Leghorn) to La Spezia, Italy. He was cremated and his ashes buried in the Protestant Cemetery in Rome.
Statistik
Verk

456

Även av

62

Medlemmar

6,562

Popularitet

#3,740

Betyg

3.8
Recensioner

62

ISBN

481

Språk

16

Favoritmärkt

51

Proberstenar

90