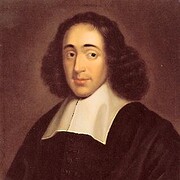 Baruch Spinoza
(1632–1677)
Författare till Etiken
Allmänna fakta
Vedertaget namn

Namn enligt folkbokföringen

Andra namn

Födelsedag

Avled

Begravningsplats

Kön

Nationalitet

Födelseort

Dödsort

Bostadsorter

Utbildning

Yrken

Kort biografi

Baruch Spinoza was born in Amsterdam, the Netherlands, to a Sephardic Jewish family whose recent ancestors had been expelled from or fled Spain and Portugal. He received a thorough education, including the study of medieval philosophy as well as the works of Descartes, Hobbes, and other contemporaries. He became a key philosopher and writer laying the groundwork for the Enlightenment, though the importance of his work was not fully realized until many years after his death.
Based on his radical views, the Jewish religious authorities in Amsterdam banned him from their society at age 23. Around this time, he adopted the Latin form of his name, Benedictus de Spinoza. He made a living grinding optical lenses, and continued his scholarly writing. He died in 1677 at age 44, allegedly of a lung illness, perhaps caused by the dust inhaled during his work. Of his writings, only A Treatise on Religious and Political Philosophy (1670) was published during his lifetime. His books Ethics, Political Treatise, and Hebrew Grammar appeared posthumously in 1677.
Statistik
Verk

253

Även av

10

Medlemmar

8,238

Popularitet

#2,935

Betyg

4.0
Recensioner

88

ISBN

646

Språk

25

Favoritmärkt

57

Om

2

Proberstenar

59