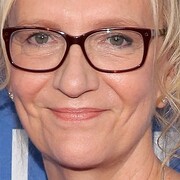 Allmänna fakta
Födelsedag

Kön

Nationalitet

Födelseort

Bostadsorter

Utbildning

Yrken

faculty (MFA program, Queens University)
fiction writer
lecturer (Creative Writing ∙ Colgate University)

Organisationer

Agent

Kort biografi

Elizabeth Strout (born January 6, 1956) is a US-American novelist and author. She is widely known for her works in literary fiction and her descriptive characterization. Born and raised in Portland, Maine, her experiences in her youth served as inspiration for her novels–the fictional "Shirley Falls, Maine" is the setting of four of her seven novels.

Strout's first novel, Amy and Isabelle (1998) met with widespread critical acclaim, became a national bestseller, and was adapted into a movie starring Elisabeth Shue. Her second novel, Abide with Me (2006), received critical acclaim but ultimately failed to be recognized to the extent of her debut novel. Two years later, Strout wrote and published Olive Kitteridge (2008), to critical and commercial success grossing nearly $25 million with over one million copies sold as of May 2017. The novel won the 2009 Pulitzer Prize for Fiction. The book was adapted into a multi Emmy Award-winning mini series and became a New York Times bestseller.

Five years later, she published The Burgess Boys (2013), which became a national bestseller. My Name Is Lucy Barton (2016) was met with international acclaim and topped the New York Times bestseller list. Lucy Barton later became the main character in Strout's 2017 novel, Anything is Possible. A sequel to Olive Kitteridge, titled Olive, Again, was published in 2019.
Statistik
Verk

16

Även av

9

Medlemmar

25,321

Popularitet

#827

Betyg

3.9
Recensioner

1,632

ISBN

378

Språk

22

Favoritmärkt

52

Proberstenar

1,483