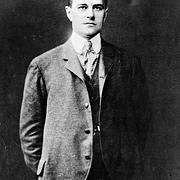 Albert Payson Terhune
(1872–1942)
Allmänna fakta
Födelsedag

Avled

Begravningsplats

Kön

Nationalitet

Födelseort

Dödsort

Bostadsorter

Utbildning

Yrken

Relationer

Harland, Marion (mother)
Herrick, Christine Terhune (sister)
Van De Water, Virginia (sister)
Van De Water, Frederic (nephew)

Organisationer

Kort biografi

Although he had other careers, Albert Payson Terhune is best remembered today for his novels and magazine stories on his beloved collies and other dogs, and as a dog breeder. Many of today's Rough Collies are descended from the collies he bred and raised at his Sunnybank Kennels in New Jersey. Several of his family members, including his mother, were also prolific writers. Irving Litvag wrote his biography, The Master of Sunnybank (1977, Harper & Row).
Statistik
Verk

87

Även av

8

Medlemmar

3,006

Popularitet

#8,487

Betyg

4.0
Recensioner

40

ISBN

283

Språk

2

Favoritmärkt

5