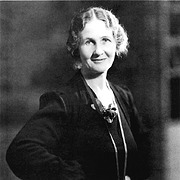 Angela Thirkell
(1890–1961)
Associerade verk
Övertalning
(1817)
— Inledning,
vissa utgåvor
—
27,919 exemplar
The Newcomes
(1855)
— Inledning,
vissa utgåvor
—
391 exemplar
Allmänna fakta
Vedertaget namn

Namn enligt folkbokföringen

Andra namn

Födelsedag

Avled

Begravningsplats

Kön

Nationalitet

Födelseort

Dödsort

Bostadsorter

Utbildning

Yrken

Relationer

Mackail, Denis (brother)
Mackail, J. W. (father)
Burne-Jones, Edward Coley (grandfather)
MacInnes, Colin (son)
Kipling, Rudyard (first cousin)
Baldwin, Earl Stanley Baldwin (first cousin) (

visa alla

10)
Barrie, J. M. (godfather)
Baldwin, Monica (cousin)
Thirkell, Lance (son)
McInnes, Graham (son)

Kort biografi

Angela Margaret Mackail was born on January 30, 1890 at 27 Young Street, Kensington Square, London. Her grandfather was Sir Edward Burne-Jones, the pre-Raphaelite painter. Her grandmother was Georgiana Macdonald. Angela's brother, Denis Mackail, was also a prolific and successful novelist. Angela's mother, Margaret Burne-Jones, married John Mackail - an administrator at the Ministry of Education and Professor of Poetry at Oxford University. Angela married James Campbell McInnes in 1911. James was a professional Baritone and performed at concert halls throughout the UK. In 1912 their first son Graham was born and in 1914 a second son, Colin. A daughter was born in 1917 at the time when her marriage was breaking up. In November 1917 a divorce was granted and Angela and the children went to live with her parents in Pembroke Gardens in London. The child, Mary, died the next year. Angela then met and married George Lancelot Thirkell in 1918 and in 1920 they travelled on a troop ship to George's hometown in Australia. In 1921, in Melbourne Australia, her youngest son, Lancelot George, was born. Angela left Australia in 1929 with 8-year- old Lance and never returned. Although living with her parents in London she badly needed to earn a living so she set forth on the difficult road of the professional writer. Her first book, Three Houses, a memoir of her happy childhood was published in 1931 and was an immediate success. The first of her novels set in Trollope's mythical county of Barsetshire was Demon in the House, followed by 28 others, one each year. Angela died on the 29th of January 1961. She is buried in Rottingdean alongside her daughter Mary and her Burne-Jones grandparents.


Statistik
Verk

49

Även av

3

Medlemmar

7,536

Popularitet

#3,247

Betyg

4.1
Recensioner

264

ISBN

245

Språk

4

Favoritmärkt

53

Proberstenar

579