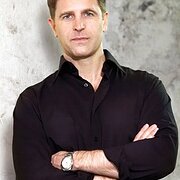 Allmänna fakta
Vedertaget namn

Födelsedag

Kön

Nationalitet

Födelseort

Bostadsorter

Utbildning

Yrken

Kort biografi

Bradley George Thor Jr. (born August 21, 1969) is an American thriller novelist. He is the author of The Lions of Lucerne, The First Commandment, The Last Patriot, and other novels. His latest novel in the Harvath series, Backlash, was released in June 2019. Thor's novels have been published in countries around the world. He also contributed a short story entitled "The Athens Solution" to the James Patterson-edited anthology, Thriller. Thor also makes frequent appearances on Fox News and The Blaze.

The Last Patriot was nominated for "Best Thriller of the Year" by the International Thriller Writers Association. His novel Blowback was voted by National Public Radio listeners as one of the "100 Best Ever" Killer Thrillers.

Thor was born and raised in Chicago, and lived in Park City, Utah for eight years.

Thor is a graduate of the Sacred Heart Schools, the Francis W. Parker School (Chicago), and the University of Southern California (cum laude), where he studied creative writing under author T.C. Boyle.

Thor is a member of The Heritage Foundation and has spoken at their national headquarters on the need for robust missile defense.
Statistik
Verk

47

Även av

2

Medlemmar

18,450

Popularitet

#1,189

Betyg

3.8
Recensioner

380

ISBN

555

Språk

11

Favoritmärkt

60