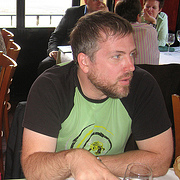 Allmänna fakta
Namn enligt folkbokföringen

Födelsedag

Kön

Nationalitet

Födelseort

Bostadsorter

Bellefonte, Pennsylvania, USA
Fiji Islands
Tallahassee, Florida, USA
Ithaca, New York, USA
Gainesville, Florida, USA

Utbildning

Yrken

Relationer

Priser och utmärkelser

Florida Individual Writers' Fellowship
Rhysling Award (Best Short Poem, 1994)
Locus Award Finalist (Editor | 2017)

Agent

Kort biografi

Jeff VanderMeer (born July 7, 1968) is an American author, editor, and literary critic. Initially associated with the New Weird literary genre, VanderMeer crossed over into mainstream success with his bestselling Southern Reach Trilogy. The trilogy's first novel, Annihilation, won the Nebula and Shirley Jackson Awards, and was adapted into a Hollywood film by director Alex Garland. Among VanderMeer's other novels are Shriek: An Afterword and Borne. He has also edited with his wife Ann VanderMeer such influential and award-winning anthologies as The New Weird, The Weird, and The Big Book of Science Fiction.

VanderMeer has been called "one of the most remarkable practitioners of the literary fantastic in America today," with The New Yorker naming him the "King of Weird Fiction". VanderMeer's fiction is noted for eluding genre classifications even as his works bring in themes and elements from genres such as postmodernism, ecofiction, the New Weird and post-apocalyptic fiction.

VanderMeer's writing has been described as "evocative" and containing "intellectual observations both profound and disturbing," and has been compared with the works of Jorge Luis Borges, Franz Kafka, and Henry David Thoreau.
Statistik
Verk

149

Även av

90

Medlemmar

29,170

Popularitet

#686

Betyg

3.7
Recensioner

1,218

ISBN

417

Språk

19

Favoritmärkt

85

Proberstenar

547