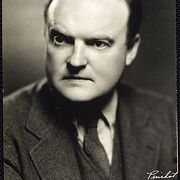 Edmund Wilson
(1895–1972)
Allmänna fakta
Andra namn

Födelsedag

Avled

Begravningsplats

Kön

Nationalitet

Födelseort

Dödsort

Bostadsorter

Utbildning

Yrken

managing editor (Vanity Fair)
newspaper reporter
associate editor (The New Republic)
book reviewer
literary critic
historian (

visa alla

8)
translator
memoirist

Relationer

McCarthy, Mary (wife)
Nabokov, Vladimir (friend)
Fitzgerald, F. Scott (friend)
Bishop, John Peale (friend)
Zabel, Morton Dauwen (friend)

Organisationer

Priser och utmärkelser

Kort biografi

Edmund Wilson was born in Red Bank, New Jersey. He attended The Hill School, a private boarding school in Pennsylvania, where he served as the editor-in-chief of the school's literary magazine, then went on to Princeton University, where he was a classmate of F. Scott Fitzgerald. Their friendship became one of the most important literary relationships in the history of American letters. Wilson read omnivorously across the spectrum of modern European and Russian writers, including Proust, Joyce, Eliot, Valéry, Dostoyevsky, Gogol, and Pushkin, along with almost all the 20th century American writers. He began his writing career as a reporter for the New York Sun, and became the managing editor of Vanity Fair in 1920. He later served as associate editor of The New Republic and as a book reviewer for The New Yorker and The New York Review of Books. He wrote plays, poems, and novels, but his greatest influence was as a literary critic, essayist, and historian. These books included Axel's Castle: A Study in the Imaginative Literature of 1870–1930 (1931) a sweeping survey of Symbolism. To the Finland Station (1940) was a broad study of European socialism up to the Bolsheviks Revolution. Wilson's work was heavily influenced by the ideas of Sigmund Freud and Karl Marx, and in turn, his work influenced novelists such as Upton Sinclair, John Dos Passos, Sinclair Lewis, and Theodore Dreiser. Wilson was married four times, most famously to Mary McCarthy, who was 17 years his junior, from 1938 to 1946.

Wilson edited the posthumous papers and notebooks of his college friend F. Scott Fitzgerald, The Crack-Up (1945), and also edited the novel The Last Tycoon (1941), which Fitzgerald had left uncompleted at his death.
Statistik
Verk

91

Även av

37

Medlemmar

7,834

Popularitet

#3,107

Betyg

3.9
Recensioner

70

ISBN

234

Språk

8

Favoritmärkt

17