Hogwarts Castle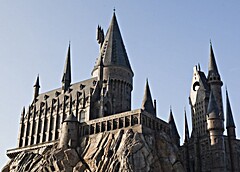 Den här gruppen är officiellt vilande. Sånt händer.
Läs här om hur du gör för att återuppliva gruppen eller skapa en ny om samma ämne.
Hello students! Welcome to Hogwarts!! I am your Headmistress, Alisha. At this school, you will learn spells, enchantments, and much more. Now that you've arrived at Hogwarts, head on over to the Sorting Hat to be sorted into one of the four houses: Gryffindor, Hufflepuff, Ravenclaw, and Slytherin.

1. After being sorting. please do introduce yourself in your common room and start making new friends.
2. Once the classroom have been made and the teachers get settled, you can sign up for classes! This is how you can earn points! But be warned you can lose points by disobeying rules.
3. This is a place to make friends and have fun! So I would appreciate no serious bullying.
4. Please be active in the group. Have fun!

Your Headmistress Alishamb08 (Theamwriter)!!
Diskussion

Diskussion

Meddelanden

Senaste inlägget

Sorting Hat 3
218

olästa

/ 218

jojoasdwer123

,

januari

2019
Where Are All of My Puffs????
3

olästa

/ 3

LiveAwesome

,

mars

2018
Sorting Hat
401

olästa

/ 401

Euxie

,

oktober

2014
Choir Practice
334

olästa

/ 334

justjukka

,

januari

2014
~* Hufflepuff Common Room ~*
424

olästa

/ 424

swimfreak14

,

augusti

2012
LAST CALL
1

oläst

/ 1

Theamwriter

,

augusti

2012
Staircase 4
164

olästa

/ 164

katagirl

,

augusti

2012
*Slytherin Common room*
415

olästa

/ 415

ErisofDiscord

,

augusti

2012
Broomstick Racing / Quidditch 3
184

olästa

/ 184

Theamwriter

,

augusti

2012
New Hogwarts Castle
4

olästa

/ 4

zebrapants

,

augusti

2012
The YA Reader Group
6

olästa

/ 6

ErisofDiscord

,

augusti

2012
No-Hanging Hangman V!
165

olästa

/ 165

the_silent_reader

,

augusti

2012
The Doctor Who Secret Discussion Room
18

olästa

/ 18

ErisofDiscord

,

augusti

2012
Easy Points Lounge 5
97

olästa

/ 97

katagirl

,

augusti

2012
Active members!
25

olästa

/ 25

StarlightLily

,

augusti

2012
*Points Posting 4*
61

olästa

/ 61

StarlightLily

,

augusti

2012
Great Hall 2
93

olästa

/ 93

sarahy

,

augusti

2012
This or That
96

olästa

/ 96

zebrapants

,

augusti

2012
Headmistress's Office 2
159

olästa

/ 159

Theamwriter

,

augusti

2012
Dobbies Fan Club!
56

olästa

/ 56

Fob45

,

augusti

2012
2012 Olympics
16

olästa

/ 16

katagirl

,

augusti

2012
~*Gryffindor Common Room*~
403

olästa

/ 403

sophiehrhlgnd

,

augusti

2012
Notice Board!!
159

olästa

/ 159

flanisntjustdessert

,

juli

2012
~*Ravenclaw Common Room*~
82

olästa

/ 82

zebrapants

,

juli

2012
How Did You Get Here?
14

olästa

/ 14

ColoradoRain

,

juli

2012
What's in a name?
142

olästa

/ 142

Fob45

,

juli

2012
Brainstorming
9

olästa

/ 9

Theamwriter

,

juli

2012
Pottermore **SPOILER ALERT**
276

olästa

/ 276

katagirl

,

juli

2012
Question that affects the group
38

olästa

/ 38

Theamwriter

,

juli

2012
No-Hanging Hangman! IV
399

olästa

/ 399

ErisofDiscord

,

juli

2012
Sorting Hat 2
326

olästa

/ 326

zebrapants

,

juli

2012
*Points Posting 3*
277

olästa

/ 277

ErisofDiscord

,

juli

2012
Easy Points Lounge 4
317

olästa

/ 317

Theamwriter

,

juli

2012
**Announcements**
22

olästa

/ 22

Theamwriter

,

juni

2012
~Hogsmeade Village~
87

olästa

/ 87

moemoa

,

juni

2012
Defence Against the Dark Arts Class
91

olästa

/ 91

katagirl

,

juni

2012
Birthdays!!
143

olästa

/ 143

Theamwriter

,

juni

2012
No-Hanging Hangman! 3
408

olästa

/ 408

ErisofDiscord

,

juni

2012
Hospital Wing
162

olästa

/ 162

katagirl

,

maj

2012
Get Your Nerd On!
101

olästa

/ 101

flanisntjustdessert

,

maj

2012
Hallway
176

olästa

/ 176

katagirl

,

maj

2012
Writers
12

olästa

/ 12

Theamwriter

,

april

2012
Library
205

olästa

/ 205

ErisofDiscord

,

april

2012
~*Ravenclaw Common Room*~
304

olästa

/ 304

ColoradoRain

,

april

2012
Great Hall
340

olästa

/ 340

ErisofDiscord

,

april

2012
Broomstick Racing / Quidditch 2
331

olästa

/ 331

flanisntjustdessert

,

mars

2012
Chess Room
13

olästa

/ 13

ErisofDiscord

,

mars

2012
No-Hanging Hangman! 2
404

olästa

/ 404

ErisofDiscord

,

mars

2012
Videos
15

olästa

/ 15

Theamwriter

,

mars

2012
Staircase 3
332

olästa

/ 332

flanisntjustdessert

,

mars

2012
new
70

olästa

/ 70

flanisntjustdessert

,

mars

2012
Sarah's Charms Class
138

olästa

/ 138

sarahy

,

mars

2012
Kitchens
154

olästa

/ 154

sarahy

,

mars

2012
Deputy Headmistress Sarah
45

olästa

/ 45

sarahy

,

mars

2012
One-eyed Witch Passage
31

olästa

/ 31

sarahy

,

februari

2012
No-Hanging Hangman!
295

olästa

/ 295

BethanyS

,

februari

2012
Empty Classroom on the Second Floor-*Home of Jenny's Odds and Ends*
47

olästa

/ 47

SweetbriarPoet

,

februari

2012
Staircase 2
433

olästa

/ 433

silvsta

,

februari

2012
The Forbidden Forest
75

olästa

/ 75

silvsta

,

februari

2012
Divination Class
83

olästa

/ 83

BethanyS

,

februari

2012
Diagon Alley
9

olästa

/ 9

silvsta

,

februari

2012
Mythology
104

olästa

/ 104

ErisofDiscord

,

januari

2012
Care for Magical Creatures
44

olästa

/ 44

sarahy

,

januari

2012
Moaning Myrtle's Bathroom
115

olästa

/ 115

sarahy

,

januari

2012
Hogwarts Monopoly Help
28

olästa

/ 28

sarahy

,

januari

2012
Owlrey
120

olästa

/ 120

GinnyW

,

januari

2012
Am I the only one who posts this much?
76

olästa

/ 76

BethanyS

,

januari

2012
Easy Points Lounge 3
414

olästa

/ 414

flanisntjustdessert

,

januari

2012
Dueling Club
148

olästa

/ 148

BethanyS

,

januari

2012
help
22

olästa

/ 22

silvsta

,

januari

2012
I AM BIG OGRE!
10

olästa

/ 10

sarahy

,

januari

2012
Chamber of Secrets
17

olästa

/ 17

sarahy

,

december

2011
Transfigurations
71

olästa

/ 71

sarahy

,

december

2011
The Quibbler
79

olästa

/ 79

BethanyS

,

december

2011
Substitute Teachers lounge!
5

olästa

/ 5

BethanyS

,

december

2011
Teacher's Lounge
32

olästa

/ 32

sarahy

,

december

2011
Detention Room
84

olästa

/ 84

BethanyS

,

december

2011
Points Posting 3
8

olästa

/ 8

Fob45

,

december

2011
Potions Class
37

olästa

/ 37

hyper13

,

december

2011
Points Posting 2
295

olästa

/ 295

Fob45

,

december

2011
Room of Requirement
88

olästa

/ 88

Fob45

,

november

2011
Divination
2

olästa

/ 2

Fob45

,

november

2011
Not really Hogwarts related but still...
55

olästa

/ 55

Fob45

,

november

2011
I need everyone's advice...
25

olästa

/ 25

sarahy

,

november

2011
Easy Points Lounge 2
316

olästa

/ 316

Fob45

,

november

2011
Easy Points Lounge 2
1

oläst

/ 1

Fob45

,

november

2011
Easy Points Lounge 2
1

oläst

/ 1

Fob45

,

november

2011
Headmistress's Office
246

olästa

/ 246

Fob45

,

november

2011
Staircase
507

olästa

/ 507

MisguidedChild

,

november

2011
House List
4

olästa

/ 4

Theamwriter

,

november

2011
Broomstick Racing / Quidditch
168

olästa

/ 168

Theamwriter

,

november

2011
The House Cup
3

olästa

/ 3

Theamwriter

,

november

2011
History of Magic
24

olästa

/ 24

OrientalCherry

,

oktober

2011
Care for Magical Creatures
3

olästa

/ 3

neica

,

oktober

2011
Easy Points Lounge
296

olästa

/ 296

Theamwriter

,

september

2011
Points Posting
71

olästa

/ 71

neica

,

september

2011
This is a feature balloon