DimSum Thing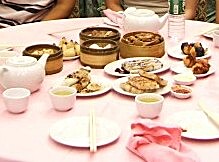 Den här gruppen är officiellt vilande. Sånt händer.
Om du vill återuppliva den här gruppen eller skapa en ny grupp för samma ämne, se denna sida.
For those who are, or who love, Chinese, or anything connected to Chinese - history, literature, cuisine, stories, people, or just Things...

If your interests lie in Chinese, especially the Overseas Chinese experience, for example, the Chinese-American, the Anglo-Chinese, Chinese-Canadian, or Chinese-Australian culture, experience or literature, then connect with others and share book reads, reviews, and let's talk!

The name dim sum does not just limit this to foody discussion by the way, but points more to a mindset, a cultural thing, if you get the drift... (although if Chinese cuisine is your only thing, then that is not a deterrent to connect up with others who share your passion here also).
Diskussion

Diskussion

Meddelanden

Senaste inlägget

must see movies

4 olästa

/ 4

vy0123

,

augusti

2013
magick in chinese culture

1 oläst

/ 1

Dario_de_Giacomo

,

september

2011
Help - what is this book I have?

2 olästa

/ 2

ITxiaobing

,

juni

2011
Chinese Mother, Tiger mom?

6 olästa

/ 6

LJ_Reading

,

januari

2011
Chinese Classical Music on Internet Radio

1 oläst

/ 1

LJ_Reading

,

november

2010
Mid-Autumn Festival

1 oläst

/ 1

LJ_Reading

,

september

2010
For non-Chinese: What sparked your interest in China?

16 olästa

/ 16

JNagarya

,

juli

2010
What is your emotional relationship with China?

14 olästa

/ 14

JNagarya

,

februari

2010
Prejudice and Racism

4 olästa

/ 4

JNagarya

,

januari

2010
The "Nanyang" experience

12 olästa

/ 12

JNagarya

,

januari

2010
Chinese Across America

6 olästa

/ 6

JNagarya

,

januari

2010
pop culture, music

16 olästa

/ 16

JNagarya

,

januari

2010
Filial Piety

19 olästa

/ 19

JNagarya

,

januari

2010
Chinese Language and the Brain

2 olästa

/ 2

punxsygal

,

augusti

2009
Chinatown!

7 olästa

/ 7

Thrin

,

september

2008
Chinese-American Books for Kids

5 olästa

/ 5

mvrdrk

,

juli

2008
Images and Videos

1 oläst

/ 1

belleyang

,

juli

2008
A Declaration of Pronunciation

2 olästa

/ 2

J_ipsen

,

juli

2008
Book Reviews

1 oläst

/ 1

belleyang

,

maj

2008
Chinese New Year

5 olästa

/ 5

betterthanchocolate

,

februari

2008
A Thousand Miles of Dreams

1 oläst

/ 1

wandering_star

,

november

2007
where are you from?

1 oläst

/ 1

thebloke

,

september

2007
Food

16 olästa

/ 16

mvrdrk

,

augusti

2007
Hong Kong

2 olästa

/ 2

belleyang

,

juli

2007
Malaysians/Singaporeans and English

11 olästa

/ 11

belleyang

,

juni

2007
Chinese Diaspora

6 olästa

/ 6

belleyang

,

juni

2007
Belated Hello!

2 olästa

/ 2

belleyang

,

juni

2007
Chinese-Canadian Experience

4 olästa

/ 4

betterthanchocolate

,

maj

2007
Book Recommendations

7 olästa

/ 7

belleyang

,

maj

2007
Chinese Stereotypes and Diversity

4 olästa

/ 4

belleyang

,

april

2007
Message Board

2 olästa

/ 2

belleyang

,

april

2007
This is a feature balloon